IGFA Captains and Guides
Europe and the Mediterranean Region
Boris Zupanovic
Captain Boris Zupanovic is a full-time captain for Split Adria Extreme Fishing Charters, based out of Split, Croatia. Captain Zupanovic has over 25 years of fishing experience around the world, but specializes in trolling, popping and jigging for bluefin tuna in the Adriatic Sea. Split Adria Extreme Fishing Charters offers a 10% discount for all IGFA members.
Omar B. Gade
Captain Omar Gade offers a unique European coastal fishing service for sea-run brown trout as-well-as fishing for pike, Atlantic salmon and other species. Guests are welcome to stay at their fishing lodge, the only fishing lodge in all Denmark, surrounded by the sea. The lodge provides comfortable accommodations, authentic Italian food, and professional guide services.
Negrashi Koushib
Captain Negrashi is an Egyptian fishing guide that provides both inshore and offshore fishing charters throughout the Red Sea, and specializes in popping and jigging for giant trevally, tunas, amberjack, grouper and barracuda. Captain Negrashi also offers freshwater fishing charters on Lake Nasser, Egypt for Nile perch, catfish and other species.
Juha Happonen
Captain Juha Happonen owns and operates Happonen Ky, a guiding service that offers fishing charters throughout Central Finland and specializes in targeting grayling, perch, pike, trout and zander.
Christian Benazeth
Winner of IGFA's Tommy Gifford Award, captain Christian Benazeth is a global captain for hire having much experience fishing Morocco, the Gibraltar Channel, much of West Africa, and also the Dominican Republic.
Pierre Pomme
Captain Pierre Pomme welcomes you to the Basque country to experience an eight-hour tuna fishing trip either by fly fishing, spinning, casting, or jigging aboard the 32' Boston Whaler. All ages and skills are welcome! Licenses and equipment are provided. Only full day charters available accommodating up to six anglers.
Philippe Dolivet
Captain Dolivet is a saltwater fly fishing guide targeting European sea bass (Dicentrarchus labrax) in the Bay of Morlaix and the Roadstead of Brest during the months from May to November. Dolivet promoted proper angling ethics and strictly practices catch-and-release policies. Additionally he is a professional guide for wild brown trout and over-winter rainbow trout, both in rivers and lakes. Charming bed-and-breakfast accommodations or luxury hotels, delicious picnics (organic local food) and gastronomic dinners.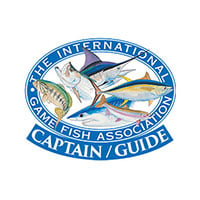 Nicolas Huguet
Aboard "Petit Janus" we navigate on the west coast of France (Vendee). Fishermen from four to ninety years old fish or learn to fish sea bass, pollock, blue tuna, bonito in inshore and offshore areas with the motorboat or kayak. We use light fishing method to increase pleasure and I ask the anglers to adopt a catch and release rule.
Patrice Garziglia
Captains Patrice Garziglia fishes the French Riviera, between Nice and Monaco, from May to October. He offers six hour trips or full day trips on his 41' Rodman named Papeete II. Trolling is his primary method of catching bluefin tuna, mahi-mahi, and spearfish but he offers popping and jigging with high quality equipment as well.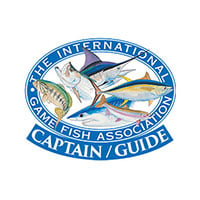 Robert Rein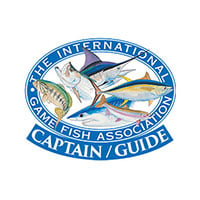 Stefano Gerola
Captain Stefano Gerola runs fishing charters based out of Liguria, Italy, located on the northwest coast of the country. Captain Gerola specializes in targeting bluefin tuna, dentex and swordfish.
Andrea Iacovizzi
Captain Andrea Iacovizzi operates Salento Fishing Charters, a year-round sport fishing operation based out of Port of San Foca, Italy. Captain Iacovizzi specializes in a variety of angling techniques for the species available, including bluefin tuna, dentex, greater amberjack, little tunny and more. Salento Fishing Charters provides all of the equipment and offers both half-day and full-day charters.
Giovanni Piccinnu
Fishes some of the most productive fishing areas around Sardinia and Corsica in the Mediterranean Sea.
Giuseppe L. Di Gerolamo
Captain Giuseppe Di Gerolamo offers six and eight hour charters for bluefin tuna, amberjack, red snapper or grouper, aboard his 23' center-console Limatti in the south of the Adriatic Sea. He can accommodate up to three anglers and enjoys fishing with children teaching them proper catch-and-release techniques. He offers 20% discount for IGFA members with current membership card.
Fabio Storelli
Based in Santa Margherita Ligure, Italy Captain Fabio Storellini owns and operates Lady Martina Sportfishing and specializes in spinning and big game fishing.
Guido Tritto
Captains Guido Tritto offers fishing charters for the Ligurian Sea for tuna, spearfish, mahi-mahi and bonito. He offers a 10% discount to IGFA members with current membership card.
Fabio Manca
Captain Fabio Manca runs fishing charters out of Siniscola, located on the east coast of Sardinia, Italy. East coast of Sardinia in the central Tyrrhenian sea. Captain Manca specializes in a wide variety of angling techniques, and targets billfish, dolphinfish, dentex, grouper, tuna and swordfish. Snapper, Grouper, Tuna and Swordfish.
Omar Ardati
Captain Omar Ardati offers fishing charters out of Lebanon in the Mediterrean Sea for bluefin tuna, dentex and other species. Take advantage of a 10% for all current IGFA members with valid identification.
Peter R. Bristow
Captain Peter Bristow owns and operates Fish Madeira, where he runs charters aboard the Katherine B - a 40-foot Nelson Mark. Captain Bristow specializes in targeting large blue marlin, as well as other species of billfish, tunas and wahoo.
Duarte Nuno Goncalves
Captain Duarte Nuno Goncalves runs fishing charters out of Calheta, Madeira aboard the Blue Makaira, a 34-foot convertible sport fishing boat. Captain Goncalves specializes in targeting offshore species such as billfish, dolphinfish, tunas and wahoo.
To' Neves
Fish with captain To' Neves' Dream Catcher charters out of Madeira offering customized fishing trips for billfish, bluefin and bigeye tuna, mako shark, mahi-mahi, wahoo, amberjack, barracuda and red snapper. His mates are experienced fishermen with a wealth of local knowledge, and work tirelessly to make sure clients catch fish and have fun doing it.
Chris Parkin
Captain Chris Parkin fishes offers full and half-day world-class marlin and tuna fishing charters within minutes from his marine in Madeira. He also offers inshore trolling and bottom fishing on both heavy and light tackle. For his billfish charters he only practices tag-and-release.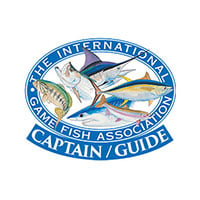 Stefan Mayer-Mendel
Captains Stefan Mayer-Mendel offers offshore charters for billfish, tuna (bigeye and yellowfin), mahi-mahi, wahoo, snapper, grouper and amberjack in La Gomera, Canary Islands.
Jason Pipe
Captain Jason Pipe runs fishing charters through Bocinegro Blue Marlin Fishing Charters, based out of Gomera, Canary Islands. Captain Pipe fishes aboard the Bocinegro II - a 38-foot Bertram - and specializes in targeting the variety of billfish and tunas that the area has to offer.