IGFA Captains and Guides
North America Region
Allen E. DeSilva
Allen DeSilva owns and operates Mako one of the finest charter boats available in Bermuda, a 2009 56' foot Carolina Sport powered by twin 1,000 horsepower Catepillar engines. With a cruise of 30-knots, once the reef is cleared there is only a 20-minute run to the fishing grounds. He targets mostly pelagic species including billfish, mahi-mahi, tuna, and wahoo.
Robert Westcott
A premier Lake Ontario fishing charter specializing in Great Lakes style trolling for trout and salmon.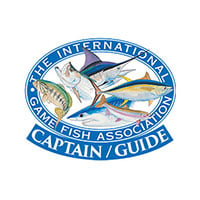 Kyle Morton
Captain Kyle Morton runs fishing charters based out of the Duncanby Fishing Lodge located in Rivers Inlet, British Columbia, Canada. Captain Morton specializes in targeting halibut, lingcod, salmon and rockfish.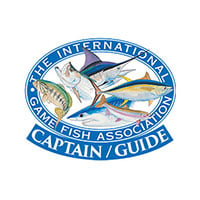 Guy Bouffard
Bouffard fishes Lake Nippissing to Gorgian Bay including all its tributaries. Most of his fishing is for muskellunge catching a few fish over 50" annually.
Andrew D. Mezirow
Captain Andrew "Andy" Mezirow operates Gray Light Fishing Charters out of Seward, Alaska, U.S. Captain Mezirow specializes in light-tackle fishing for salmon, but also offers full-day trips for halibut, lingcod, rockfish and multi-day, long-range fishing expeditions in the waters around the Kenai Fjords National Park and the western entrance to Prince William Sound.
Niklas Ranta
Captain Nik Ranta is the owner and operator of the M/V Crackerjack, a 31' Farallon, in Seward Alaska. As a U.S. Coast Guard Master license and IGFA Captain he has led his clientele to 13 IGFA world records. With over 20 years of experience fishing the Kenai Peninsula fishing, captain Ranta is recognized as a leader in light tackle fishing halibut, lingcod, and chinook, sockeye and coho salmon. Although his summer season is dedicated to his charter business in Seward, he spends as much time as possible in lower latitudes during the winter months chasing pelagic species. Ranta also serves as the President of the Seward Charterboat Association and is an active voice in all aspects of fisheries management.
Jimmie Jack Drath
Captain Jimmie Jack Drath's Alaskan Fishing Lodge is located on the Kenai Peninsula in Alaska. Drath's lodge offers spectacular beach front accommodations combined with world-class fishing. Fully guided and outfitted fishing trips are offered there for Kenai River king, silver (coho), sockeye, rainbow trout, lingcod and rockfish. Can fish the Kenai, Seward, Homer and Ninilchik, Alaska with over 10,000 happy guests served since 1995.
Charlie Gray
Captain Charlie Gray owns and operates Gray Gulf Charters, based out of Dauphin Island, Alamaba, U.S. Captain Gray and Gulf Charters offer inshore and nearshore saltwater fishing charters, specializing in red drum, spotted seatrout, tripletail, Spanish mackerel, flounder and more.
Bryan Adams
Captain Bryan Adams runs both a 61-foot Viking and a 38-foot Fountain along the southern California coast and Baja Peninsula, and specializes in targeting tuna, yellowtail, marlin, dolphinfish, kelp (calico) bass, rockfish and halibut.
Robert W. Day
Captain Robert "Bob" Day operates En la Mosca Adventures, based out of San Diego, California. Captain Day specializes in fly-fishing and light-tackle fishing San Diego Bay for spotted bay bass, croaker, the elusive Cortez bonefish and many other species. En La Mosca Adventures offers half-day trips and provides all of the necessary rods and reels, flies, lures and other necessary items.
Tom Mattusch
Captain Tom Mattusch fishes central California coast by Half Moon Bay for salmon, rockfish, Humboldt squid, and even Dungeness crab. Whale watching tours are also available.
Bill Gorham
Captain Bill Gorham operates the Tailchaser out of Newport Beach, California, U.S. and specializes in targeting the both the inshore and offshore gamefish of Southern California, including billfish, dolphinfish, kelp (calico) bass, California halibut, California yellowtail, tunas and more. Take advantage of a 10% discount for all current IGFA members with a valid membership card.
Pete Toscani
Nunzio Incremona
Offering advanced fly fishing instruction on the water for individual or groups, children from ages nine and older, as well as, specialized instruction for handicapped individuals. Locations include New England and mid Atlantic with destination trips to Oregon and British Columbia. Specializing in migratory fish, sight fishing, night fishing for brown trout on mouse flies and striped bass on the shores of Cape Cod. Offering discounts for IGFA members.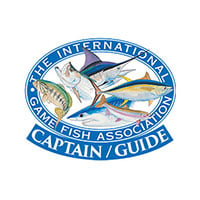 Rick Murphy
Terry L. Lacoss
Captain Terry Lacoss operates the Amelia Angler based out of Amelia Island, Florida, U.S. Captain Lacoss offers charters for both freshwater and saltwater fishing from bass to billfish, but focuses primarily on inshore fishing from St. Mary's Sound and Nassau Sound including all connecting rivers, bays and ocean.
Wally Shaw
Captain Wally Shaw is the full-time captain of the REEL WORK, based out of Fort Lauderdale, Florida. Captain Shaw was born and raised in Fort Lauderdale, Florida and has over 20 years of professional sport fishing and tournament experience in South Florida and the Bahamas. REEL WORK is a 45-foot Hatteras that can accommodate up to six anglers, and offers year-round sport fishing charters specializing in sailfish, dolphinfish, snappers, king mackerel, tunas and more.
Matthew J. Ponzio, IV
Captain Matthew "Matt" Ponzio operates Smokin' Reels Charters, based out of Fort Myers, Florida, U.S. Captain Ponizio specializes in targeting tarpon, sharks, snook, red drum, spotted sea trout, snappers, groupers and more on the Gulf of Mexico and inland waters of Fort Myers and Sanibel Islands. Take advantage of a 10% discount on Smokin' Reels Charters for current IGFA members with a valid membership card.
Mark Decker
Captain Mark Decker is a freelance writer, specializing in fly fishing for big game species. He offers live-aboard charters throughout Mexico Gulf, Florida Keys and Bahamas.
Ross Early
Captain Ross Early operates Early Bird Fishing Charters out of Islamorda, Florida, U.S. The Early Bird is a custom, 46-foot Carolina boat that can accommodate up to six anglers. Captain Early specializes in targeting a variety of species, including: dolphinfish, cobia, grouper, snapper, swordfish, tuna, wahoo and more. Early Bird offers a $50 discount to IGFA members.
Larry Sydnor
Captain Larry Sydnor operates inshore and backcountry fishing charters out of Islamorda, Florida, U.S. Captain Sydnor is a renowned guide in the Upper Keys and specializes in targeting bonefish, permit, red drum, snook, tarpon and more on both light-tackle and fly.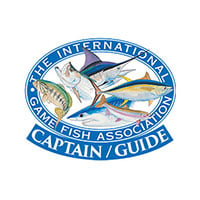 Jeff Burns
Captain Jeff Burns runs fishing charters out of Key West, Florida, U.S. aboard his boat "On the Fly" - a 39-foot Contender. Captain Burns specializes in light-tackle fishing for dolphinfish, grouper, snapper, sailfish, tarpon and tuna, and is also permitted to run trips to the Dry Tortugas National Park.
Steven Lamp
Captain Steven Lamp owns and operates Dream Catcher Charters based out of Key West, Florida, U.S. Dream Catcher Charters provides custom fishing charters, both inshore and offshore, and offers four, six, eight and ten-hour charters using light-tackle and fly to target tarpon, bonefish, permit, snapper, grouper, cobia, sharks, barracuda, trout, red drum, snook, and more.