IGFA Weigh Stations
Central America and the Caribbean Region
Species weighed: Wahoo, Marlin, Dorado, Barracuda, etc.
Minerva's Baja Tackle is located in the heart of Cabo San Lucas, 1 block from the local Marina. Thirty-five years in local Fishing Charters and Fishing Tackle assures you of an unmatched experience and local savvy. Committed to great service, Minerva's Baja Tackle is a one-stop angler shop offering everything for the Baja visitor and fisherman.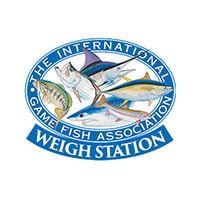 Pisces Sportfishing Fleet was established in 1978 in Cabo San Lucas, and has grown to be one of the most respected fishing fleets in the world. With around 40 Sportfishing vessels on offer for charter from 24 to 70 feet, they have options for every type of fisherman. Their conservation efforts have gained them the IGFA Lifetime Achievment Award for Conservation. Their competitive fleet also places regularly in many world renown fishing tournaments in Cabo.
Although you may not consider lounging an "activity", here in Baja the "siesta" or mid-day nap is considered an essential activity for refreshing you for tonight's Fiesta. Kick your feet up and grab a novel... or snooze away an hour or two... YOU DESERVE A BREAK from the hustle and bustle of daily life, after all - isn't that why you are coming to Rancho Leonero Resort? We hate to mention it but there's also a big screen TV and high speed WI-FI internet in the bar.
World Renowned Tailhunter International Sportfishing is a full-service outfitter and guide service with two recreational Sportfishing Fleets in La Paz (Isla Espiritu Santu) and Las Arenas/Muertos Bay (Isla Cerralvo) on the Sea of Cortez in Baja California Sur. Founded, owned and operated for over 19 years by award winning author and Baja Sur fishing expert Jonathan Roldan and his wife/fishing buddy Jilly.
Trinidad & Tobago Game Fish Association
[email protected]
#59 Pinewood Dr
Goodwood Gardens
Diego Martin
TRINIDAD AND TOBAGO
(868) 632-6608
www.ttgfa.com
We host 5 annual tournaments including our International Marlin Madness in Tobago and our full-release Tarpon Thunder Tournament in Trinidad. We also host a Wahoo in March and a King Fish in June and a tournament just for Junior Anglers in July. Species targeted: Wahoo, king fish, yellowfin tuna, dolphin (mahi-mahi.)