IGFA Weigh Stations
Central America and the Caribbean Region
Grand Caribe Resort Belize
[email protected]
2 Mls North San Pedro Ambergris Caye, BELIZE
BELIZE
(501) 280-4726
Species weighed: Wahoo, Marlin, Dorado, Barracuda, etc.
Guadeloupe Marlin Club
[email protected]
Marina Bas Du Fort Pointe A Pitre, 97110 GUADELOUPE
GUADELOUPE
+590 690 30-7505
The Official IGFA Weigh Station is immediately available on request.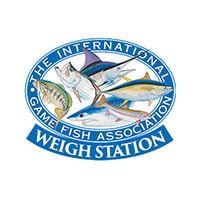 Pisces Sportfishing
[email protected]
Barcos Piscis SA de C.V. Cabo Maritime Center, Marina 8-6, #1D Cabo San Lucas 23410 MEXICO
MEXICO
(619) 819-7983
Rancho Leonero Resort
[email protected]
East Cape Baja California Sur MEXICO
MEXICO
(760) 438-2905
Although you may not consider lounging an "activity", here in Baja the "siesta" or mid-day nap is considered an essential activity for refreshing you for tonight's Fiesta. Kick your feet up and grab a novel... or snooze away an hour or two... YOU DESERVE A BREAK from the hustle and bustle of daily life, after all - isn't that why you are coming to Rancho Leonero Resort? We hate to mention it but there's also a big screen TV and high speed WI-FI internet in the bar.
Trinidad & Tobago Game Fish Association
[email protected]
#59 Pinewood Dr Goodwood Gardens Diego Martin TRINIDAD AND TOBAGO
TRINIDAD AND TOBAGO
+1 868-632-6608
We host 5 annual tournaments including our International Marlin Madness in Tobago and our full-release Tarpon Thunder Tournament in Trinidad. We also host a Wahoo in March and a King Fish in June and a tournament just for Junior Anglers in July. Species targeted: Wahoo, king fish, yellowfin tuna, dolphin (mahi-mahi.)