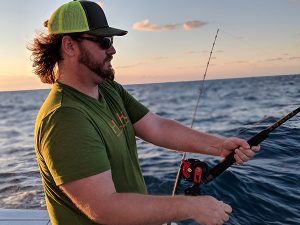 Conservation Director
Bruce comes to the IGFA with an impressive academic background having recently earned his Ph.D. in Marine Biology and Fisheries from the University of Miami. Bruce also holds a Master of Professional Science with a focus on Fisheries Management from the University of Miami, and a Bachelor of Science with a major in Biomedical Engineering from Yale University.
"We are very excited to welcome Bruce to the IGFA team," said IGFA President Jason Schratwieser. "His impressive academic background, highly honed skill set, and proven work ethic make Bruce the perfect fit for this position. We are confident he will be an immediate and long-term contributor to the success of the IGFA."
Bruce's Ph.D. research work involved the study of the behavioral dynamics of sailfish and blue marlin in the tropical Eastern Pacific off the coast of Central America. Bruce has completed multiple other projects related to research, consulting and lecturing on the biodiversity and abundance of marine species, new marine technology for abundance studies and satellite tagging.
In his new position at the IGFA, Bruce will play a strategic role in developing and executing IGFA's conservation and research programs, and working on issues related to advocacy, research and fisheries policy development. This will also include the management of IGFA's existing conservation programs and initiatives including the International Great Marlin Race (IGMR), the Golden Dorado project, the Forage Fish Coalition and the formation of the IGFA Scientific Advisory Panel.