IGFA Representative Bruce Holder
Growing up on a Caribbean island means growing up fishing. IGFA Representative Bruce Holder has continued fishing in
Guadeloupe, French West Indies.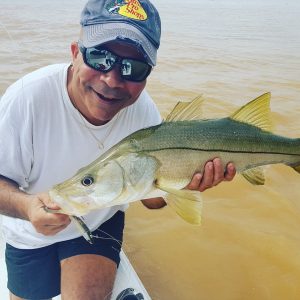 IGFA Representative Bruce Holder grew up fishing, sailing and diving on Trinidad and Tobago, where he was born. But Bruce had international aspirations from the start— his mother was a French diplomat and the family traveled often. Bruce is now a resident of Guadeloupe, an island in the French West Indies. He became an IGFA Representative in 2009.
Lifelong Passion
Bruce is a member of the Guadeloupe Marlin Club and has been since he moved from France to Guadeloupe in 2003. As an avid fisherman in Normandy, France, Bruce witnessed the sustained over-harvesting of European seabass. Professional and recreational overfishing eventually led to poor recreational fishing due to a decline in stocks. Recently, laws to protect the European seabass population were enacted.
Fast forward to Guadeloupe: The island is truly an angler's dream. Naturally, Bruce became an IGFA Representative once he learned the fishing secrets of his adoptive island. Through ample practice, he learned to fly-fish and lure-fish for bonefish, tarpon, and snook. He also learned deep-sea fishing techniques for dolphinfish, wahoo, marlin, and tuna. Some of his favorite forms of fishing include deepsea jigging for kingfish, snapper and observing all the species of the benthos around Guadeloupe's numerous reefs.
Education is Key
It became evident that the tools that the IGFA gave Bruce helped promote sportfishing in Guadeloupe. But it never dawned on him how the IGFA would have a 'snowball' effect in this little French-speaking island:
"In the beginning, there were no IGFA rules in French. There was a minimal notion of ethical angling both on private owned boats, professional fishing boats or charter boats. Tournaments were everything except release tournaments, and everything pulled out of the ocean, mangroves, and rivers were considered table fare."
Bruce admits that first there was a need for education, both his own and for the sport fishermen around him.
Once he realized the error of his ways, it was time to share that knowledge. The notion of ethical angling was new to Guadeloupe, so Bruce spread information through the Guadeloupe Marlin Club members and other fishing societies and clubs around the island. "No one knew what the IGFA was about, or that IGFA rules existed and were implemented to create an even playing field within sport fishing."
Taking Steps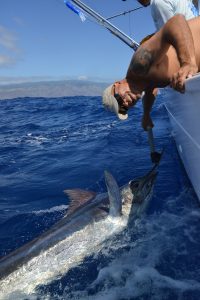 Today, Guadeloupe has more IGFA observers than any other island in the Caribbean. Credit is due mainly to the Guadeloupe Marlin Club, which sponsored a visit from IGFA Marketing Director Jack Vitek. With the help of additional game fish enthusiasts, Vitek hosted four sessions for more than 35 IGFA observers and the Guadeloupe Marlin Club became an Official IGFA Weigh Station. Thanks to the weigh station designation, the heavily sponsored Guadeloupe Fishing Festival became an Offshore World Qualifying event.
Not only is Bruce a pioneer, certifying guides to further promote the sport in the island nation, but he also works to educate kids on the island. All that work recently paid off in the form of summer fish camps for disadvantaged children. During the summer camp, the kids learned about fishing, ecology, pollution, and the general marine biodiversity of Guadeloupe.
Baby Steps
"Being proud of your island means that you want to protect your island paradise," said Bruce. "Sometimes it just takes a few people to realize how good we have it here."
Guadeloupe has many challenges ahead. The island faces governmental roadblocks, including pesticide pollution, lack of sufficient sewage treatment plants, overfishing, and recreational poaching.
Bruce admits that being an IGFA Representative on the French island is not easy. "You have to play everyone's game," he says. But he admits, "It's all about improving the fishing access for all."